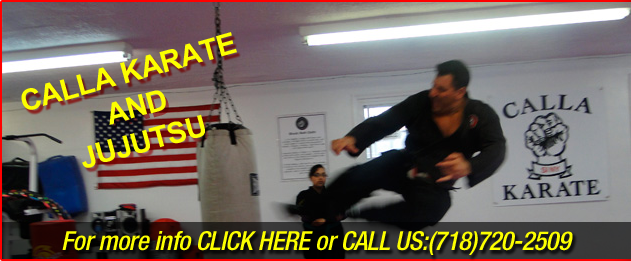 Calla Karate and JuJutsu Offering Martial Arts in Staten Island
Calla Lil Champions Childrens Martial arts, karate and JuJutsu in Staten Island: The value of our pre-school age program is preparation for school. The key to success is socialization. In a group environment your child will develop the ability to be patient, wait their turn in line, learn how to focus and pay attention. Our drills provide the much needed exercise to keep your child healthy and fit. Memory and speech skills are enchanced by participating in interactive learning drills. Fun filled, attention grabbing exercises will keep your child interested and motivated.
Junior Achievers Childrens Martial arts, karate and JuJutsu in Staten Island: This is our Pre-Teen program. Where your child will be able to develop in to a well- rounded individual with confidence and self-esteem. We offer the most innovative curriculum that will hold and engage your child's attention. Our program is designed to spark awareness while teaching the values of respect and discipline. We offer fun filled, state of the art martial art instruction taught by our highly trained Black Belt Team. Our Character Development program combined with our Bully Self-Defense curriculum will give your child the strength to be a Victor not a Victim!
Teens Martial arts, karate and JuJutsu program in Staten Island: This unique program offers valuable Life Skills and Lessons. When children become young adults the peer pressures and challenges become very tempting. We are able to approach these sensitive issues by empowering our students to be Leaders and not Followers. The positive impact martial arts has had on so many children has helped to keep them on the Road to Success! Our strengthening and conditioning warm up exercises are great for physical fitness and our self- defense techniques will have all of our students prepared for any situation that may arise.
Adults Martial arts, karate and JuJutsu PROGRAMS in Staten Island: Our adult program is for men or women of any age. Whether you are Interested in keeping fit, want to learn self-defense, or maybe you're looking for a Family Fitness center our classes will keep you Lean and Mean! Ladies, if you want to become Bikini Body Ready the Kick Boxing classes are just what you need! Our go at your own pace programs will work for anyone at any age. Remember: "Lack of activity destroys the good condition of every human being, while movement and methodical physical exercise save it and preserve it."